Today I'm sharing my thoughts on the Kat Von D Mi Vida Loca Remix Eyeshadow Palette with you. This palette is part of the Holiday 2015 release and I bought it from Sephora as soon as I saw it go online. It has really cute, vinyl record inspired packaging. The bright shades inside are laid out in a color wheel shape. The inner circle of colors is a mix of neutrals. The name of this palette comes from one of Kat's favorite tattoos, meaning "My Crazy Life" in Spanish.
Kat Von D Beauty is proudly cruelty free.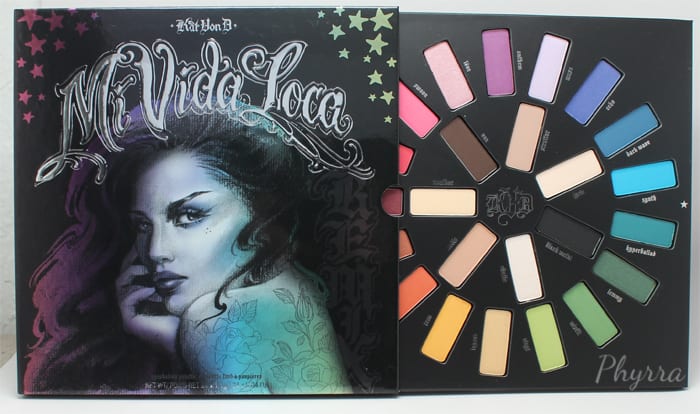 Where to Buy
Sephora
Price
$59 ($110 value, 24 eyeshadows each .04 oz)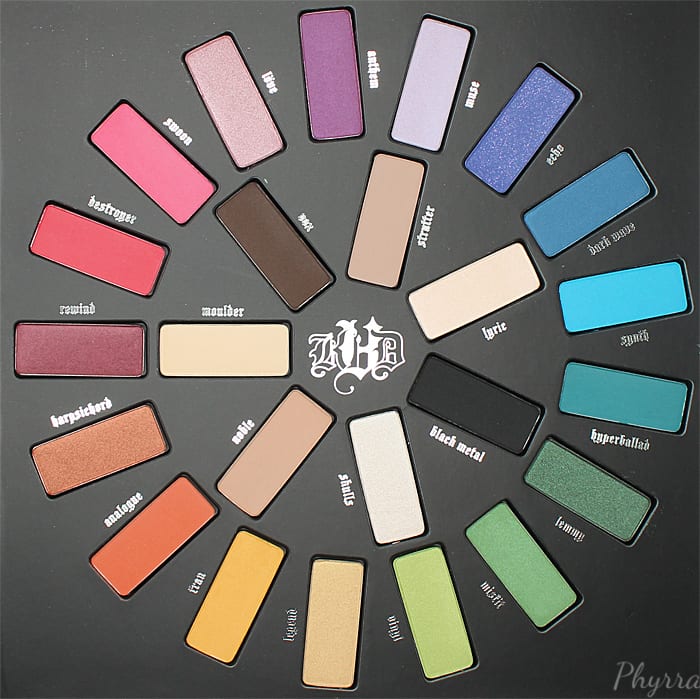 About Kat Von D Mi Vida Loca Remix Eyeshadow Palette
Go crazy for color with 24 new high-pigment eye shadows in a palette inspired by vintage vinyls. With a striking combination of technicolor brights and everyday neutrals, this palette proves that there's no shade too bold or combination too daring. It features an inner wheel of seven nudes and neutrals surrounded by an outer wheel of 17 vivid brights. Discover how to rock three stand-out and insanely vibrant looks on the illustrated insert. Each is named for one of Kat's cult favorite Studded Kiss Lipstick shades.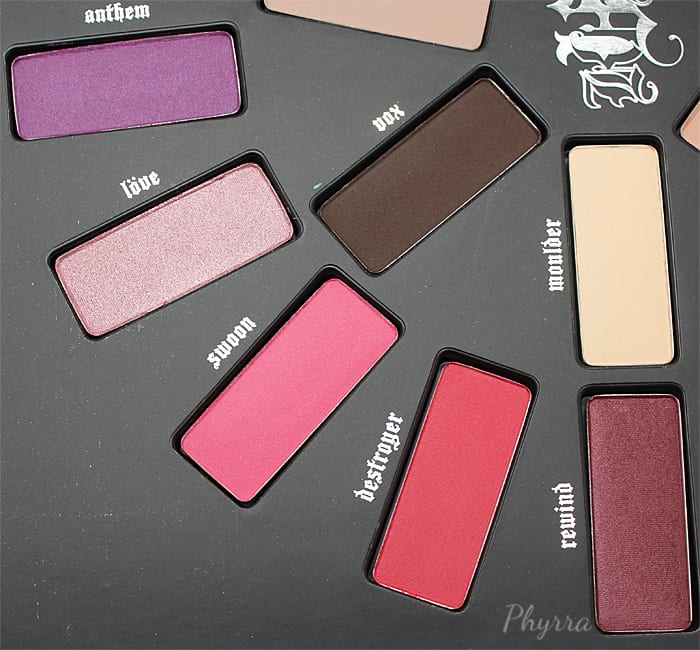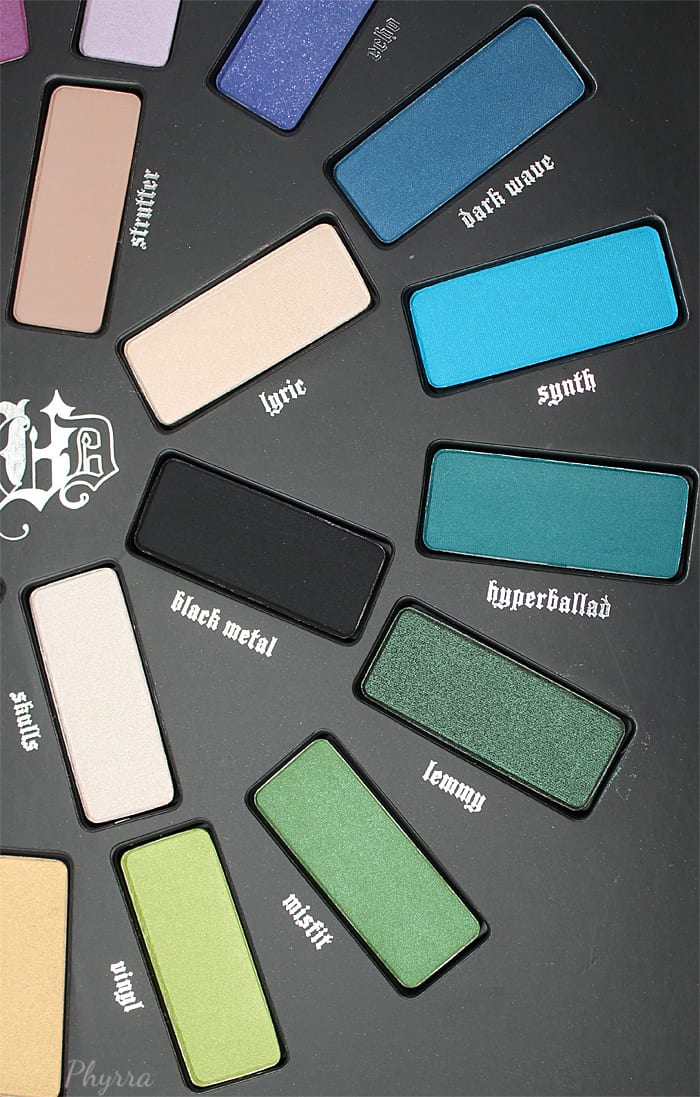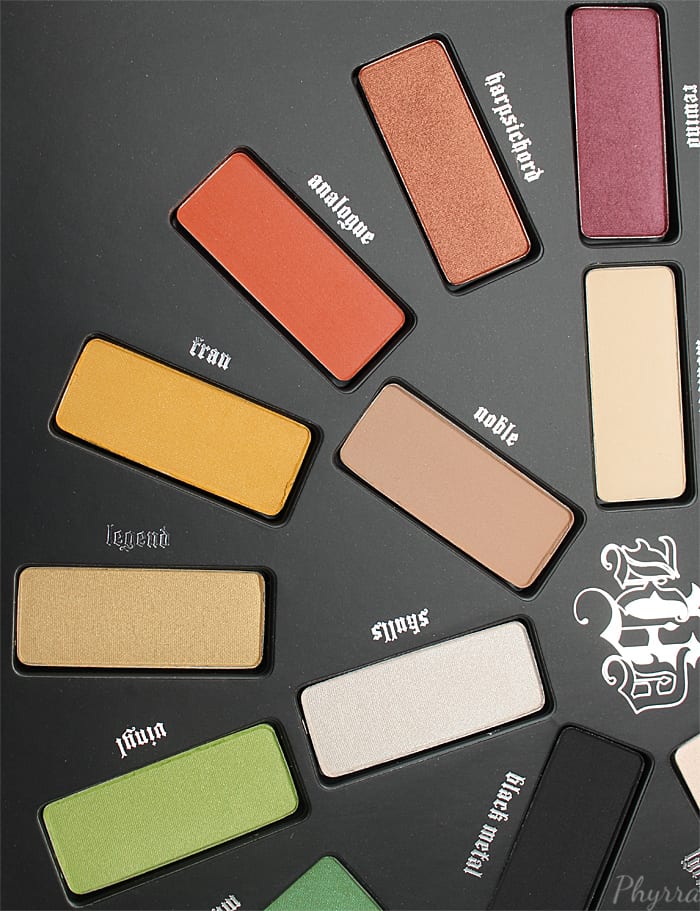 The left side is on Ofra Eye Gel Primer. The right side is on bare skin.

Hyperballad (sea blue)
Deep teal green matte, sort of patchy on bare skin.

Synth (electric blue)
Vivid electric blue matte, sort of patchy on bare skin.

Dark Wave (deep navy)
Deep navy blue matte, sheer on bare skin, very disappointing. As someone who loves darkwave music, I was excited to see an eyeshadow with this name until I swatched it.

Echo (purple glitter)
Deep blue-toned purple matte with purple glitter, sheer on bare skin and fallout from the glitter. You know me, I love purples. It's so disappointing to see a purple perform like this.

Muse (lilac purple)
Semi-sheer and patchy light lilac purple satin, barely shows up on my skin. This one does not impress me at all. Even on primer, you can see on the left side of the swatch the pigmentation can't fully cover my freckle.

Anthem (purple)
Red-toned magenta purple satin-matte, patchy on bare skin. As someone who loves purple, this color deeply disapppointed me. It didn't want to apply evenly.

Love (shimmery rose)
Light rose shimmer.

Swoon (fuchsia)
Hot pink satin-matte.
Destroyer (bright strawberry)
Warm bright strawberry red satin-matte.

Rewind (aubergine)
Brown-toned burgundy satin. A pretty shade that I want to wear right now because I'm burgundy obsessed.

Harpsichord (metallic bronze)
Metallic orange with copper tones. This makes me think of fall. It's beautiful if you love orange shades.

Analogue (burnt orange)
Rich deep orange satin matte.

Fran (deep mustard yellow)
Orange-toned yellow satin. This was surprisingly pigmented to me.

Legend (golden yellow)
Light metallic yellow gold.

Vinyl (neon green)
Bright chartreuse green satin.

Misfit (kelly green)
Bright satiny green.

Lemmy (grass green)
Deep green shimmer with a slightly smoky base.

Black Metal (matte black)
Black matte, easy to smoke out.

Skulls (iridescent pearl)
Sheer white pearl, good for an inner corner highlight or to layer on top of another shade to add dimension.

Lyric (white pearl)
Sheer light beige pearl, really matches my skintone pretty well.

Moulder (butter yellow)
Light satiny yellow beige, barely shows up on my skin.

Strutter (taupe)
Taupe matte.

Noble (nude)
Light milky brown matte.

Vox (chocolate brown)
Dark brown matte, makes me think of a 90% cocoa dark chocolate bar
The swatches below show the top of the swatches with primer and the bottom of the swatches on bare skin.
I am very glad that I started swatching on primer and on bare skin. I feel like it gives me a clearer picture on the performance of the eyeshadows.
The packaging is very pretty, though it is bulky. It feels thin. This is one I would recommend depotting. I really like the Get the Look guides that are included with the palette.
I love that Mi Vida Loca Remix has bright mattes and satin mattes with a few shimmery shades thrown in. I feel like too many palettes are composed of pure shimmer, and the extra matte / satin matte brights make it special. I love the fact that the colors are all color wheel influenced so you're getting a real rainbow of shades. I'm not as fond of the included neutrals because I don't feel like the color range of neutrals works very well for me, but they may work better for light to medium skintones.
Muse, Lyric, Skulls and Moulder blended in with my skintone rather than having enough pigmentation to stand on their own. Echo, Dark Wave, Synth, Hyperballad and Anthem really disappointed me as I felt they were patchy. I also feel like Vinyl, Misfit and Lemmy didn't perform as well as they could have. Rewind, Love, Destroyer, Analogue and Harpsichord seemed to perform the best to me. The colors with the poor color payoff are surprising after how well the Metal Crush eyeshadows performed.
While it's true that I always use primer and these shades certainly perform better on primer, I have such a large collection and many similar shades that already perform better, so I don't feel I can justify keeping this palette. I'd be more inclined to keeping it if the blues and purples performed better. Last year I probably would have given this palette a much better review, but I'm more critical now with the way I judge eyeshadows.
You're getting 24 nearly full size eyeshadows (.04 oz each) for $59, which isn't a bad deal if the quality is there. Unfortunately, I feel like the quality is lacking with this palette. Because of the disappointing performance, I'm going to be returning it. You know I hate to return things but I just don't feel that my money was well spent. I wanted to love this palette, but it let me down.
If you want a solid bright color palette, I recommend either the Urban Decay Spectrum Palette (LE, Holiday) or the Urban Decay Electric Palette (permanent). You can also get a ton of awesome bright eyeshadow singles from Sugarpill.
What do you think about the Kat Von D Mi Vida Loca Remix Eyeshadow Palette?
Via: Phyrra